Disclaimer…this is going to be mushy, full of emotions, unicorns, and glitter.
Like many teachers across the country I have been filled with so many feels. It's been personal and real. Well it's been very personal and real for me since September 11, 2001 – and for so many others across this country, privilege is hard to come by. The struggle has been real…for a very long time. None of this is new —  Not going to get into that now…
The interactions I've been having, the conversations that I am stalking, errr…lurking…observing, give me hope. Real hope. We're literally educating the future. If you teach 8th grade and beyond, many of your students will be voting in the next Presidential Election!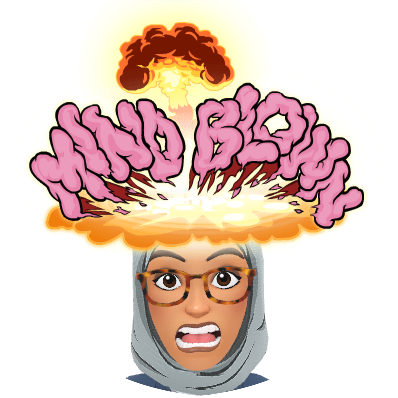 @crstn85 @KhatriMath then Monday, I tell my S's this:You need to BE BETTER than the adults around you. You are the future. Do better than us.

— Susan Russo (@Dsrussosusan) November 11, 2016
However, this letter is not about the election…it's so much more than that and today one of these (non-election related) interactions finally opened up the flood gates and I cried out of sheer joy for having this community in my life and in my journey as a teacher. It was a very simple gesture of kindness and support, but I couldn't stop the tears from rushing out. I guess the emotional roller coaster finally went for a deep dive.

Dear MTBoS,

I heard about you not long after graduating from grad school thanks to the amazing Sam Shah, at a first year of teaching boot camp at the Math for America office facilitated by Chris. Years prior, I had a personal twitter account, but never thought I could use it as a teaching tool. I was heading into my first year of teaching…it was gonna be hell or so I was told, so I latched on to everything anyone threw at me.

I've witnessed how hard you work and so many of you inspire me to be a better teacher for my students…and well a better colleague and person too! Thanks Justin, Casey, Brian, Annie, Megan, Becky, Amy, Elizabeth, Andrew, Ilana, @Mr_Harris_Math, Meg, and soooo many more of you.

And now it's almost four years later…I've had the honor of meeting a few of you at TMC, PCMI, Tweet Ups, or through Math for America, but I haven't met many of you in real life (yet…). I didn't expect to make friends with people I didn't ever meet (#strangerdanger?), but here I am — I know who to turn to for some #gilmorechat  #cannoevenchat, #SWDmathchat, #msmathchat, #numbertalks, and general venting of teacher life and general commentary on life as a teacher working in NYC and/or life as a Muslim.

And even though I haven't met most of you, I trust you.

I trust you because you have gently reminded us that we're doing our best.

I trust you because you've spoken up when I've gotten same hate and shade thrown my way. I can't express how much that means to me. Thank you.

You've validated my feelings without saying everything is going to be okay…because have they ever? are they really?  I hope I can say that some day…

You have called for action and taken action to provide equity for our students with disability, to provide excellence in instruction for all of our students by asking us to become better storytellers. You're bringing awareness to the issues of social justice in the classroom or sharing some Tales from a Chalkline. Thank you.

I trust you to give me honest and meaningful feedback on my lessons…(even as I'm typing this.) I can tell how hard and tirelessly you work for your students. You push to me to reflect. You make me want and demand better for my students in all aspects of their learning.

@KhatriMath I like the area model and the partial products. I wonder if you can take advantage of variation? https://t.co/I7eGhlIgny

— David Wees (@davidwees) November 20, 2016

@KhatriMath A question that will have nuance rather than a precise answer for a long time to come…. https://t.co/ctTtqP7Bzb

— Christopher (@Trianglemancsd) October 26, 2016

You're not shy about asking me questions about my faith. We've learned a lot about each other (I hope)! And I hope in the coming weeks, months, and years…you ask and reach out.

@KhatriMath Hmm? Is this a question of when the new moon actually is? I thought we astronomically knew these things?

— Michael Pershan (@mpershan) June 5, 2016

@khatrimath@mpershan This is **FASCINATING**!

— CheesemonkeySF (@cheesemonkeysf) June 5, 2016

More than anything, in the last few weeks you've taken the time to listen to your students. To listen to each other. To reach out to each other. To care for each other. So many of you have checked in with me, either on facebook or twitter. And you continue to do so. I'm really not sure how to close, except by saying thank you.

@sophgermain I'm still sick. Need to work on the self care. Climbing into bed now. Get on the #radicalselfcare

— Tina Cardone 🏳️‍🌈 (@crstn85) November 10, 2016

@KhatriMath thinking about you and your safety today

— Becky (@BeckyNftP) November 10, 2016

Love,
Sahar
P.S. I promised there would be unicorns…